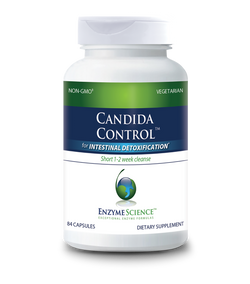 Candidase Pro 84 Enzyme Science
     Candida albicans is a variety offungus which normally occupies mucous membranes and the intestinal tract. When candida occupies the body in a balanced state, it poses no harm. When conditions exist to promote yeast growth, elevated levels of Candida may result in a number of uncomfortable symptoms.
Common symptoms associated with imbalance can include:
Occasional indigestion, gas, distention, mucus in the bowel, vaginal or rectal itching or discomfort, diaper rash in children, urinary tract infections, and oral thrush. Candida Control, provides high potency enzymes for maintaining a healthy balance of Candida albicans, thus minimizing occurrences of symptoms associated with overgrowth.*
     Yeast overgrowth is often caused by low levels of microflora, as well as continued use of antibiotics and various suppressed immune system scenarios. Over time, Candida may damage the intestinal walls, resulting in a weakened ability to properly absorb nutrients. Candida cleansing protocols are typically known for a host of negative effects commonly described as die-off (Herxheimer) reaction. Many individuals experience flu-like symptoms with headaches, achy/sore joints and general malaise upon destruction of yeast organisms. These uncomfortable symptoms are often enough to disrupt patient compliance in conventional cleansing and detoxifying programs, thus preventing the restoration of balance in Gl flora.
*These statements have not been evaluated by the Food and Drug Administration. This product is not intended to diagnose, treat, cure or prevent any disease.
Supplement Facts
2 capsules contain:
Cellulase Thera-blend 70,000 CU
Protease Thera-blend 230,000 HUT
Broccoli Seed Extract 40mg
Probiotic Blend 1 Billion CFU
---L. acidophilus DDS-1, L. rhamnosus, L. casei, L. gasseri, L. plantarum, L. bulgaricus, L. salivarius, L. paracasei
Other Ingredients: 100% vegetarian capsule (cellulose, water).
Contains NO: dairy, egg, preservatives, salt, sucrose, soy, wheat, yeast, nuts, corn, gluten, casein, potato, rice, artificial colors or flavors.
Recommended Use:
Adults: Take 2 capsules three times per day on an empty stomach (1/2 hour before or 2 hours after a meal). More may be taken as recommended by a healthcare professional.
Warnings:
Candida Control should not be taken with any timed release medications that use cellulose as its time-release mechanism. If you are pregnant or nursing, please consult your healthcare professional before using this product. Keep out of the reach of children.