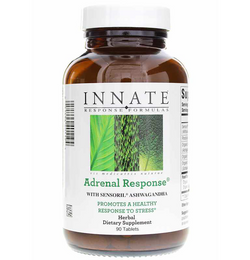 Adrenal Response 90 ct Innate Response Botanical Adrenal support for maintaining healthy cortisol level & healthy stress response
Adrenal Response®
Addresses chronic stress by supporting energy levels and overworked nervous system. 2 tablets provide:

• Withanolide glycosides, oligosaccharides and withaferin-A in concentrations clinically shown in double-blind, placebo-controlled clinical trials, to support a healthy response to stress and help to ward off fatigue*
• Sensoril® Ashwagandha, a clinically researched extract of Withania somnifera standardized to 8% withanolides, has been shown to maintain healthy cortisol levels to help...
Servings Per Container:
30
Sensoril®† Ashwagandha Root & Leaf Extract (Withania somnifera/10% withanolides)
250 mg
Rhodiola Rosea Root Extract (Rhodiola rosea)
200 mg
Organic Astragalus Root (Astragalus membranaceus)
150 mg
Organic Holy Basil Leaf (Ocimum sanctum)
150 mg
Organic Schisandra Berry (Schisandra chinensis)
100 mg
Food & Extract Blend:
145 mg
Organic Amla Fruit (phyllanthus emblica)
Organic Kelp Fronds, (laminaria digitata)
Other Ingredients:
Rice Bran, Silica, Stearic Acid, Guar Gum, Cellulose
Dairy/ Milk Free
Gluten Free
Kosher
Vegetarian
Soy Free
Non-GMO
Certified B Corporation
*
These statements have not been evaluated by the Food and Drug Administration. This product is not intended to diagnose, treat, cure or prevent any disease.