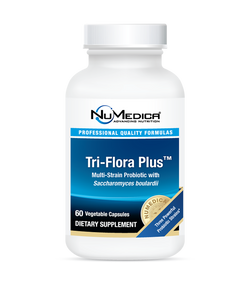 NuMedica Tri-Flora Plus - 60 ct
Multi-Strain Probiotic with Saccharomyces boulardii
Tri-Flora Plus™ is a breakthrough combination probiotic formula providing a concentrated synergistic spectrum of Saccharomyces boulardii (SB), Lactobacillus and Bifidobacterium. NuMedica® has chosen the world-renowned Institut Rosell in bringing you the select strains in this formula. Tri-Flora Plus™ provides two lines of defense in one capsule by offering protection from pathogens with SB and at the same time protecting the intestinal tract through the restoration of beneficial intestinal flora.* The three bacteria strains in this formula are proven to be resistant to gastric acidity and bile salts.*
One Capsule Contains:
Probiotic Blend Containing 5 Billion Live Organisms:
Saccharomyces boulardii lyo ................................. 125 mg
Lactobacillus acidophilus Rosell-52
(reclassified L. helveticus)
Lactobacillus rhamnosus Rosell-11
Bifidobacterium longum Rosell-175
Other Ingredients: Potato starch, HPMC (capsule), magnesium stearate, ascorbic acid.
Contains No: Wheat, gluten, artificial sweeteners or preservatives.
Contains: Traces of soy and dairy products through bacterial fermentation.
Storage: Refrigerate after opening. This product may be shipped refrigerated to prevent prolonged exposure to extreme heat though it is not necessary to arrive cold.
Directions: Take one capsule before or during each meal or as directed by your healthcare practitioner.