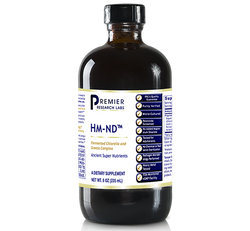 HM-Nano Detox---------------------ND Technology™ (Novel Micro-cultured Delivery)
This premier quality formula is fermented using a unique probiotic culture which allows rapid oral delivery with superior bioenergetic properties. Many people say they can feel the effect of this product the very first time they take it., 


Heavy Metal (HM) Nano-Detox is a truly superior formula featuring nanized Chlorella, coriander and parsley, the most effective heavy metal detoxifier yet discovered. It's great for both children and adults, especially those with brain fog, learning, behavioral or memory challenges.
 
Key Benefits:
    Deep-seated heavy metal detoxification support, especially for the kidneys, brain and the meridians around the brain area
    Easy use through simple oral administration; no need for costly IVs
    Mobilized metals can be easily eliminated via the next urine following the dose
    Decreased risk of enzyme and leaky gut-mediated reabsorption through the bowel
    No risk of mobilized metals crossing the blood-brain barrier
    Supports elimination of a broad range of toxic heavy metals (not only mercury)
    Almost immediate improvements for a broad spectrum of reported concerns
    Clinically tested to determine optimal concentration of active ingredients for maximal heavy metal clearance in long term use (does not cause kidney meridian toxicity or overload - so common with other heavy metal detoxification products)
    Does not pull heavy metals directly from dental restorations but does bind to the metals already released into the oral cavity
Recommended Uses and Variations:
Start with the HM Nano-Detox™. When mineral levels are more alkaline (as indicated by 1st AM urine between pH 6.4 - 7.0), then add HM Detox capsules. If headaches or fatigue are experienced when starting HM Nano-Detox™ , stop use temporarily and gently cleanse the liver by doing the following: start Liver Nano-Detox™ (1/2 tsp., 2 times/day for 1 week); then continue while resuming HM Nano-De tox™. Also, for optimal removal of metals via the urine, we highly recommend doing a Kidney Cleanse before, or in conjunction with taking HM Nano-Detox™.
 
How does Heavy Metal Nano-Detox™ Work?
The main route of excretion of mercury is via the urine, thus accelerating the excretion rate of the mobilized metals as compared to the fecal route, decreasing the possibility of enzyme and leaky gut mediated resorption through the bowel, and decreasing the burden on the liver. The majority of the metals to be mobilized and eliminated per dose are quickly detectable in the first urination following the dose.
 
The Nanization Process
The herbal complexes in Heavy Metal Nano-Detox™ are micro-digested into extremely small particles during a proprietary fermentation process using unique multi-strain probiotic colonies to allow rapid delivery into the cells. Since nanized phytonutrients are extremely easy to absorb, even those with poor digestion can reap the full reward! This formula is preserved with premium grade, certified organic alcohol.
 
Why Use Organic Alcohol?
Top grade, organic alcohol is nature's perfect preservative. Its indigenous vasodilative properties function as a perfect transporter of nanized phytonutrients into the blood to deliver almost immediate uptake. For centuries, Oriental Medicine has known that nutrients preserved in alcohol directly target the liver, getting a faster, deeper response than when no alcohol is used. The organic alcohol used in this formula is superior (pesticide and heavy metal residues not detected via lab testing.)
 
Want to Avoid Alcohol?
In a typical dose (1/2 tsp.) of "nano" liquid, you receive about 1/90 of an ounce of alcohol. For those who want to avoid alcohol but still get the benefits of this product, simply place a dose of the "nano" preparation (usually 1/2 tsp.) in 1/2 cup of warm, purified water. Wait for 5-10 minutes for the alcohol to gas off.
 
Recommended Use:Take 1/2 teaspoon mixed in water or juice, 2 times daily or as directed by a health professional. Shake gently before use.
Ancient Super Nutrients
Delivers three nutrient-dense greens (chlorella, cilantro, parsley) in fermented form for whole body support*
Features chlorella which contains a comprehensive matrix of vitamins, minerals, amino acids and antioxidants
Supplement Facts:
1/2 Teaspoon Provides:
---
Proprietary Blend . . . . . . . . . . . . . . . . . . . . . . . . . . . . . . . . . . . . . . . . . . . . 50 mg
Organic Chlorella (whole; broken cell wall) (Chlorella sorokiniana), Organic Cilantro (leaf) (Coriandrum sativum), Organic Parsley (leaf) (Petroselinum crispum); fermented in a probiotic culture1
---
Other Ingredients: Purified Water, Organic Alcohol, Organic Blackstrap Molassess