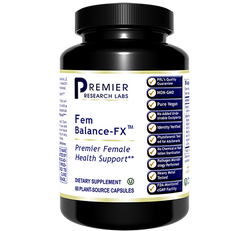 Fem Balance(formerly Fem Gold) 60 Ct.
Healthy Endocrine Support During Menopause & Perimenopause

This quantum-state nutraceutical formulation supplies healthy endocrine support during menopause and perimenopause. Quantum-Rx Fem Gold supports healthy balance of estrogen and progesterone and helps to modulate pathways of estrogen metabolism and beneficially influences estrogen receptor function. This is a unique health-promoting formula that can be used by women of all ages.

Each Vegetable Capsule Contains:
Proprietary Blend . . . 480mg
Nopal Cactus (pad) (Opuntia ficus-indica), Red Clover (blossom) (Triofolium pra.), Red
Raspberry (leaf) (Rubus idaeus), Dong Quai (root) (Angelica sin.), Chastetree (berry) (Agnus
castus), Squaw Vine (folium) (Michella repens), Kelp (fronds) (Laminaria dig.), Bladderwrack
(fronds) (Fucus vesiculosus), Golden Thread (rhizome) (Coptis chin.), Chickweed (aerial)
(Stellaria media), Gardenia (fruit) (Gardenia jasmin.), Gugulipid (resin) (Commiphora mukul),
Bitter Orange (fruit) (Citrus aur.), Turmeric (rhizome) (Curcuma longa)

Other Ingredients: 
Oat Bran, Vegetable Cellulose Capsule

Recommended Use:
Adults or children (age 4 and up): Take 1 capsule, 3 times daily. For
special routines, up to 12 individual servings may be taken daily (1 serving = 1 capsule).