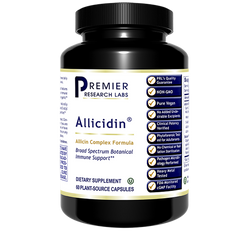 Allicidin 60caps Premier Labs Broad Spectrum Immune Support
Serving Size: 1 Capsule
Servings Per Container: 60

Amount Per Serving / % DV

Allicin OrganoSulfur Complex™ 315mg / *
Garlic (bulb) extract (allium sativum)' wild bear garlic (leaf) (allium sativum)
Which yields
S-Allyl Cysteine 95mcg
Allicin 1'890mcg
Alliin 3mg
Botani-Pro Blend™ 108mg / *
Organic turkey tails (mycelia' fruiting body' spore) (coriolus versicolor)' organic hyssop (leaf' stem) (hyssopus officinalis)' organic parsley (leaf) (petroselinum crispum).

*Daily Value not established.
Other Ingredients: Vegetable cellulose capsule.
Manufactured in a cGMP compliant facility for superior quality assurance.
Non-GMO / Vegan / Vegetarian.
Garlic is known for how well it fights bacteria' and may be helpful in maintaining a healthy gut. Research also suggests that allicin may help reduce the occurrence and size fat deposits in your artery walls' while also lowering your blood pressure.
In each Allicidin™ capsule' you receive a blend of herbs and other natural ingredients that are combined to support your immune system:
Asparagus' which may reduce inflammation and help support your digestive tract.
Parsley' which may prevent damage to your cells and help promote heart health.
Stinging nettle' which may assist the prostate and help reduce inflammation.
European Wild Garlic—also known as Bear's garlic—is a special type of wild garlic' as opposed to the typical kind you find in your kitchen. It's been used throughout history to provide immune support.
Allicidin™ by Premier Research Labs is a pure vegan supplement that's free of all glues' fillers' and binders. One bottle contains 60 vegetable capsules' which will last for about one month days if you follow the recommended dosage of one capsule twice daily. Your health care practitioner may recommend a special program that prescribes up to 10 individual servings per day.
Premier Research Labs is proud to bring its cutting-edge and dynamic products to the world. The company has risen to the top of the industry to become an internationally known and universally respected vitamin and supplement manufacturer. It is also extremely honored to be the world's first and only producer of cellular resonance products' which effectively restore quantum coherence to the body's biofield. Extensive clinical research has shown that once this restoration is complete' the body's healing power may be beyond limits; this is a power that can be gained with Premier Research Labs' fine products.
These statements have not been evaluated by the Food and Drug Administration (FDA). These products are not meant to diagnose' treat or cure any disease or medical condition. Please consult your doctor before starting any exercise or nutritional supplement program or before using these or any product during pregnancy or if you have a serious medical condition.