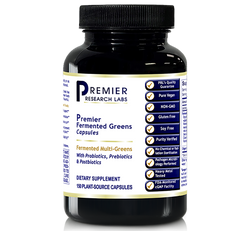 Greens Fermented 150 caps, Premier With Probiotics, Prebiotics, & Postbiotics
Premier Fermented Greens - providing a convenient gluten free, 100% fermented plant blend with live prebiotic, probiotic and postbiotic activity. Our prized, veganfriendly superfood features carefully air-dried greens at low temperature: Fermented Organic Barley Grass, Fermented Organic Oat Grass, Fermented Organic Kale, Fermented Organic Chlorella to provide the full spectrum of naturally occurring vitamins and minerals that help promote the natural alkalinity and pH of the body. This masterpiece of prebiotics is scientifically backed with the probiotic bacteria, Lactobacillus reuteri, to supplement the health of your intestinal microbiome in order to promote overall health and wellbeing.
The fermentation of organic greens also generates highly desirable postbiotics. Generated from probiotic bacteria, postbiotic metabolites are the biochemical flux that can initiate thousands of chemical reactions in every one of your cells throughout the body. We now know that these probiotic-produced postbiotic compounds play extraordinary roles in regulating and maintaining the body's healthy internal microbiome. Taking Premier Fermented Greens on a regular basis helps supply an entire spectrum of prebiotics, probiotics and postbiotics to promote gut health.
No Added Stearates

Organic Ingredient (1 or more)

Plant-Source Capsules

Probiotic Fermented Nutrients (1 or more)

Pure Vegan