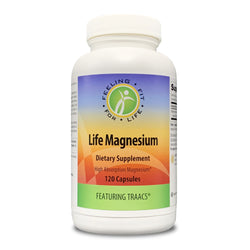 Life Magnesium 120 Magnesium 125mg (lysyl glycinate chelate & di-mag malate)
Life Magnesium 120
Muscle, Nerve and Energy Support*
120 Vegetable Capsules
Life Magnesium features the highly absorbable magnesium lysyl glycinate chelate and the patented di-magnesium malate from Albion® Advanced Nutrition, the world leader in patented mineral amino acid chelate and organic mineral acid complex research and development.* We have chosen Albion® Advanced Nutrition's mineral technology to provide the highest quality minerals for optimal absorption and utilization.*
Magnesium is involved in over 300 enzyme-related processes including cardiac, muscle and nerve function and the production of ATP for energy.* Magnesium also plays a role in supporting optimal bone density and maintenance of blood glucose levels.*
Directions: Take one capsule 2-3 times daily between meals or as directed by your healthcare practitioner.
Gluten Free
Suitable for Vegetarians
Free of: Milk, eggs, fish, shellfish, tree nuts, peanuts, wheat, soy.
Caution: Keep out of reach of children.
Storage: Keep tightly closed in a cool, dry place.
TRAACS and The Albion Medallion design are registered trademarks of Albion Laboratories, Inc.  Malate covered by Albion International, Inc. U.S. Patent 6,706,904 and patents pending.
This Formula Meets or Exceeds cGMP Quality Standards.
Directions: Take 1-2 capsules twice daily, between meals or as directed by your practitioner.

One Capsule Contains:


| | |
| --- | --- |
| Magnesium (TRAACS® magnesium lysyl glycinate chelate and di-magnesium malate) | 125 mg |

Other ingredients: HPMC (vegetable capsule), microcrystalline cellulose, rice flour.

Contains No: Wheat, gluten, corn protein, yeast, soy, animal or dairy products, artificial colors, sweeteners or preservatives.
 by your healthcare practitioner.