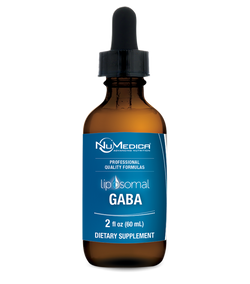 Liposomal GABA, 2 fl oz (60 mL) Gamma Aminobutyric Acid (GABA), 250 mg
 2 droppers Liposomal GABA provides 250 mg of GABA delivered in non-GMO phosphatidylcholine liposomes to support optimal absorption and bioavailability.*
Gamma Aminobutyric Acid (GABA) is a naturally occurring amino acid neurotransmitter that carries information between nerve cells.* GABA is critical for the function of a healthy nervous system and is known for its calming effect.*
Other Ingredients: Purified water, sunflower lecithin, natural berry flavors, glycerin (from palm kernel), stevia leaf extract (steviol glycosides), potassium sorbate.
Does Not Contain: Milk, eggs, fish, shellfish, tree nuts, peanuts, wheat, soy.
Storage: Refrigerate after opening. Use within 45 days of opening.
This product is intended for oral use only.
This formula utilizes a Proprietary Liposomal Delivery System from a specialized phosphatidylcholine complex with a unique ratio of PC, PE and oleic acid.
Size:
2 fl oz (60 mL)

Serving Size:
2 mL (2 full droppers)
Servings Per Container:
30
Directions:
Take 2 mL (two full droppers) once per day, or as directed by your healthcare practitioner. Shake well before use.