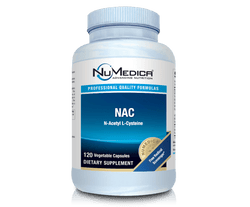 NuMedica NAC (N-Acetyl L-Cysteine)
N-Acetyl Cysteine (NAC) is a unique form of the amino acid l-cysteine which has been found to support healthy tissue levels of glutathione (GSH).
One capsule contains:
N-Acetyl L-Cysteine (NAC)   -    600 mg
Other Ingredients: hydroxypropyl methylcellulose (vegetable capsule), microcrystalline cellulose, l-leucine, bamboo silica.
Suggested Use:Take one capsule twice per day between meals or as directed by your healthcare practitioner.
Does Not Contain: Milk, eggs, fish, shellfish, tree nuts, peanuts, wheat, soy.
Caution: Keep out of reach of children.

Storage: Keep tightly closed in a cool, dry place.