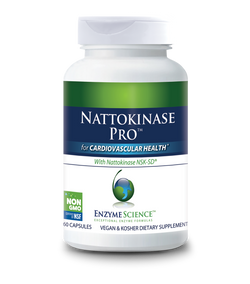 Blood pressure is a measurement of the pressure exerted by the blood on the inner walls of the arteries. When blood pressure rises, the heart muscle must work harder to pump the blood efficiently throughout the body. Increased blood pressure may be accompanied by imbalanced cholesterol levels and decreased elasticity and diameter of the blood vessels. Risk factors for increased or high blood pressure include a family history of the condition, obesity, smoking and age. Nattokinase Plus™ was formulated to provide enzymatic and antioxidant activity for promoting and maintaining a healthy circulatory system.*
     Healthy circulation depends on proper blood clotting and appropriate formation of fibrin, a protein in the blood produced as a response to inflammation. Fibrin is essential to stop excess blood loss in the event of bodily trauma or injury. As the vascular system is triggered with increased inflammation, the body's inflammatory response is activated and fibrin is produced. Excessive cross-linked fibrin circulates through the bloodstream and may stick to the walls of blood vessels. As a result, blood viscosity is increased and blood pressure becomes elevated.
*These statements have not been evaluated by the Food and Drug Administration. This product is not intended to diagnose, treat, cure or prevent any disease.
Serving Size: 1 Capsule
Servings Per Container: 60
Amount Per Serving / % Daily Value
Calcium (from Calcium Citrate) 14 mg / 1%
Magnesium (from Magnesium Citrate) 0.04 mg / 1%
Bromelain 96 GDU/g
Nattokinase blend w/ NSK-SD® 4000 FU
Amylase Thera-blend 3600 DU
Protease Thera-blend 16000 HUT
Cellulase Thera-blend 1000 CU
Glucoamylase 40 AGU
Lipase Thera-blend 685 FIP

Other Ingredients: 100% Vegetarian Capsule (cellulose, water)

Contains no egg, dairy, preservatives, salt, sucrose, soy, wheat, yeast, nuts, corn, gluten, casein, potato, rice, artificial colors or flavors. Vegan and Kosher.

Warnings

If pregnant, nursing, or taking other medications, consult healthcare practitioner before using this product.

Keep out of reach of children.

Additional Information

Keep closed in dry place; avoid excessive heat.