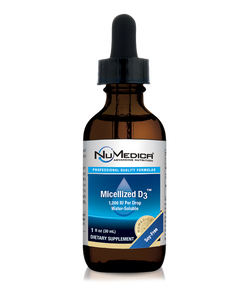 D3 Micellized 1200 IU - 1 oz NuMedica
Water-Soluble Vitamin D3 - 1,200 IU Per Drop


Micellized D3™ is a natural, soy-free form of Vitamin D provided in a water-soluble micellized form. The micellization process produces tiny droplets (micelles) that are then formed into highly absorbable aggregate structures. Micellization greatly increases the solubility, absorption and bioavailability of our vitamin D3 over oil or emulsified forms.


Each Drop (.04 ml) Contains:


Vitamin D-3 (as cholecalciferol) ............................ 1200 IU


Other Ingredients: Deionized water, ethoxylated castor oil, glycerine, citric acid, grapefruit seed extract (natural preservative), potassium sorbate.

Directions: Take one drop daily in 1-2 ounces of juice or water or as directed by your healthcare practitioner.
A must for any patient without a gall bladder. Hence, they can not emulsify fats and will not be able to break down an oil based vitamin D3 for normal absorption. Micellized D3 gives you excellent absorption and will give you healthy levels.