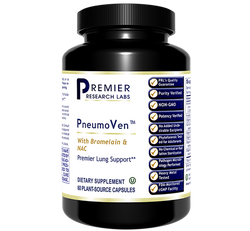 PneumoVen 60 prl (Lung Complex)
Quantum Lung Complex 500 mg 60 Vcaps
Lung Complex consists of synergistic, broad-spectrum phytonutrients for optimal lung cleansing and support, including sinus and healthy breathing cycles.*
Quantum-state nutraceutical formulation for lung cleansing and support, including sinus and healthy breathing cycles*

Delivers antioxidant support for the lungs*

Supports optimizing the bodys enzyme and protein systems for effective lung tissue building*

Helps support the oxygen-carrying capacity of blood to the lungs

Supports better processing of air pollutants by the lungs*
Every nutrient is toxin-free, specially grown for potency and meticulously processed without chemicals for maximum, long-term tissue support.
Supplement Facts
Each capsule contains:
A proprietary blend (460mg):
---Pine Bark Extract (Pinus mas.)
---Kelp (whole) (Ascophyllum nod.)
---Beta-sitosterol
---Marine Coral Concentrate
---Alfalfa (herb) (Medicago sat.)
---Blue-Green Algae (whole) (Aphan.flos-aquae)
---Beet (root) (Beta vul.)
---Chlorella (whole; broken cell wall process) (C. vulgaris)
---Noni (fruit, seed) (Morinda citrifolia)
---Saccharomyces cerevisiae
---Tomato (min 1% lycopene)
---Turmeric (rhizome) (Curcuma l.)
---Bitter Orange (fruit) (Citrus aur.)
---Coriolus versicolor (mycelia, fruiting body)
Other Ingredients: vegetable cellulose capsule.
Contains NO: magnesium stearate, corn, milk, soy, salt, sugar, wheat, artificial colors, flavors or preservatives.
Recommended Use: 
Adults and children (age 4 and up): Take 1 capsule, 3 times daily. 
*These statements have not been evaluated by the Food and Drug Administration. This product is not intended to diagnose, treat, cure or prevent any disease.