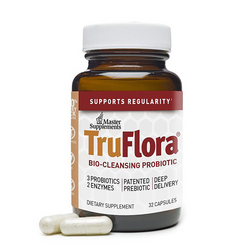 Tru-Flora® 32 veg caps, Master Supplements A combination of probiotics and enzymes created to cleanse the G.I. tract.
Cleanse Waste    Boost Energy    Supports Immunity
TruFlora™ is a medical strength probiotic containing three lactic acid producing probiotic strains and two betaglucan digesting enzymes that work together to control Candida yeast and other undesirable intestinal microorganisms.
Targeted Delivery -
TruFlora's active ingredients are protected from destruction in stomach acid by a patented carbohydrate from seaweed (sodium alginate) that forms a buffered-gel around the ingredients in the stomach but dissolves away in the intestinal tract releasing the ingredients unharmed and fully active.
Prebiotic Stimulation
TruFlora utilizes

 

LactoStim®, our patented prebiotic combination of lecithin and oleic acid. When combined with probiotics, LactoStim promotes the healthy, rapid growth of all beneficial bacteria enabling a quick return to comfort and wellness.
Unrivaled Quality
We enlist third party labs to guarantee the potency, purity, and quality of every lot to ensure potency through expiration. Additionally, each strain listed has a well-documented history of efficacy.

Suggested Usage

As a dietary supplement, take two (2) capsules weekly, about 3.5 days apart. Intensive Use: One (1) capsule daily for as long as required.

Ingredients

Serving Size: 1 Capsule

Servings per Container: 32

Amount per Serving
Bacillus coagulans BC-705 2 Billion CFU*
(Lactobacillus sporogenes)
Lactobacillus plantarum LP-29 10 Billion CFU*
Lactobacillus salivarius 3 Billion CFU*
BETAGLUCANASE 400 BGU*
HEMICELLULASE 10,000 HCU*
(CFU=Colony Forming Units)

Other Ingredients: Cellulose, Sodium Alginate, HPMC (capsule), Sodium Phosphate, Silica, Ascorbic Acid, Sunflower Lecithin + Oleic Acid (LactoStim, patent pending), Magnesium Stearate (vegetable source).

Contains No: Yeast, Eggs, Corn, Soy, Milk, Casein, Gluten, Wheat, Peanuts or Animal Protein

Best if refrigerated. Refrigerate upon arrival. Can be held at room temperature (approx. 75F) up to 4 months.